Michael Dickstein Coca-Cola HBC Group Director Sustainability and Community
Coca-Cola HBC is rated as a leading business in sustainability across multiple ESG indices worldwide.
At the helm of their continued sustainability push is Group Director Sustainability and Community Michael Dickstein. Michael is seen by many as a sustainability veteran in the beverage industry. He gave us his thoughts on the challenges that businesses face on their sustainability journey and how Coca-Cola HBC is pursuing its strategic agenda.
Michael, Coca-Cola HBC several years ago took a strong stance on the role sustainability would play in its future growth. The recognition and success of this stance is for many unprecedented. How have Coca-Cola HBC been able to succeed where many others are still dabbling?
There are many companies with great ESG programmes, particularly in the consumer packaged goods sector. That's no surprise given the consumer shift towards sustainable products on the shelves.
With regard to our business, there are three elements that are key to a successful strategy in my view. First, what I call the business imperative of sustainability. Every initiative in this space has to directly or indirectly support our company priorities. Water is one of our key ingredients. Therefore, water stewardship is a major topic for us. To protect and transport our products, we package them. Consequently, understanding how we can bring down packaging waste is vital, and so on. Second, our Board members and the top leadership team dedicate a lot of personal attention towards the agenda. ESG topics are regularly on the meeting agenda – much more frequently than what I am observing elsewhere. Third, the strong commitment of local colleagues in our 28 markets.
The success of our flagship programme #YouthEmpowered as well as a myriad of volunteering initiatives, particularly during the pandemic, are testament to that dedication.
You are on track to meet your Mission 2025 commitments but with the success you have had are these targets likely to become more ambitious and thus there is a possibility that in certain areas of the mission that the goalposts may be moved further apart?
Yes, absolutely. To give you a concrete example, we have recently submitted our new set of 2030 science-based targets to the SBT initiative. Our goal is to contribute to the limitation of global temperature rise to 1.5°C, which will obviously accelerate our overall emissions agenda.
We are also constantly looking into the other areas of the Mission 2025 strategy: water stewardship, sustainable packaging, our communities as well as the agriculture-nutrition nexus. Not only we do… our stakeholders have a great say in the agenda, too. Our annual stakeholder forum is a benchmark of what is working well and what should be further improved. Take this year's forum… we engaged with renowned experts and more than 100 stakeholders, as we discussed climate change in the new normal.
The recommendations during the session were again priceless!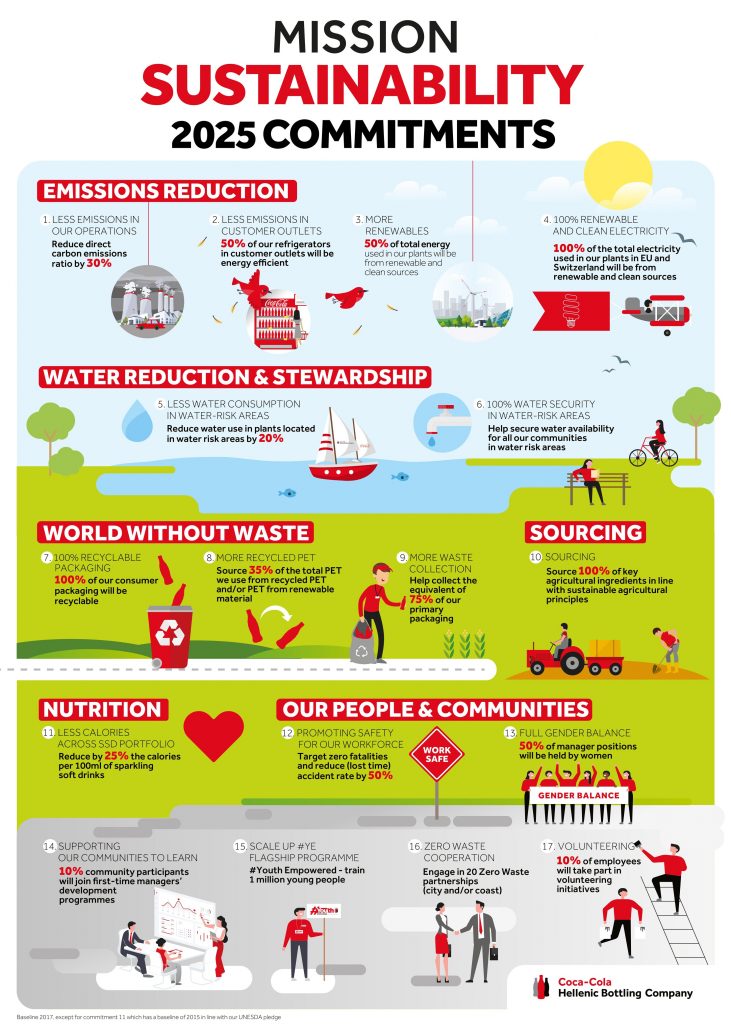 Stakeholder buy-in is imperative and your success to date would not have been possible without the efforts of every employee. In your opinion how important is a companies culture in driving sustainability goals. How do you embed this within your company's culture?
We've already talked about the great commitment of our roughly 30,000 colleagues. This is not only a building block for a successful strategy, it's also creating energy and excitement to further build our joint agenda.
How are we embedding it? Honestly, we are in a comfortable situation at Coca-Cola HBC, as sustainability has been deeply rooted in our culture for quite some while. All we need to do is nurture it, create platforms for more ideas and, conversely, showcase the progress of our efforts – but also obstacles underway.
The journey to achieving sustainable growth is not always as smooth as the headlines often suggest and maybe this is why even now some companies take a cautious approach when discussing this subject. We believe that the only way you can truly create a sustainable economy is via sharing ideas and experiences. In your experience what would you say are the biggest challenges that you have faced?
Transparency is indispensable in my view. We are advancing in some areas further than in others. We are very outspoken about our achievements but also the areas of improvement. Sustainability reporting is essential for that and in terms of holding ourselves to public account. We publish our progress against each of our Sustainability Mission 2025 commitments in our integrated annual report. We believe that it is important to know how others view and rate us. Besides, the annual results from benchmark indices such as MSCI, the Dow Jones Sustainability Index or FTSE4Good provide valuable insights as they help us realise where we stand.
Every business is different but from speaking with your peers what would you identify as the biggest challenges the Sustainability Executive faces today?
Five years ago, I would have shared a long wish list to Santa Claus. But today it seems we've had many a Christmas since then! The attention towards ESG topics has completely shifted – think of how the financial markets are embracing the agenda nowadays.
Therefore, the most important task for sustainability execs is to be a partner for and a challenger to top management. You need to have the relevant business acumen for that as well as a healthy dose of perseverance… or as my boss says, 'always happy, never satisfied'!
Sustainability is a pilar in the corporate citizenship of a business. Your title includes 'Community'. Does this relate to your overall corporate responsibility?
Well Oliver, at the start of our conversation, you've asked me about things that set Coca-Cola HBC apart… Our community agenda is such an example. Being a responsible social citizen is as important as reducing the carbon footprint or supporting the circular economy.
We've already mentioned #YouthEmpowered. Our aim is to train one million young people by 2025. Last month, we've reached 300,000 participants, which is fantastic. Besides, we are opening up our training programmes for NGOs, and we are one of the few FTSE companies with a clear gender balance target.
Therefore, when I came on board, I was keen to have our attention towards our communities reflected in my job title.
Lastly, to date what would you pinpoint as your proudest success?
Ask me again in 20 years… I will be happy AND satisfied once we've made the business completely carbon neutral. This is an ambition that keeps me going and that will outperform all other achievements made!