Market leading provider of food and support services Eurest, part of Compass Group UK and Ireland's Business & Industry (B&I) division, has launched a new menu to be rolled out across 700 workplace restaurants around the UK.
This is driven by a brand-new food philosophy that responds to the Covid-19 crisis by offering scalable, sustainable and nutrition-led options to boost employee health and wellbeing.
The new menu launched in September at all Eurest locations, plus at sister company sites run by 14forty which also serve food.
Many of these serve businesses and organisations that have continued to operate throughout the pandemic. With Coronavirus cases on the rise and the government changing its guidance to 'work from home if you can', this is a critical time. The new menu will support thousands of key workers by giving them access to a first-rate food offer.
The new menu boasts:
80 per cent British produce*.
A 25 per cent reduction in calories per 100g of food.
Each recipe has been fully assessed by Eurest's team of nutritionists.
Seven new hot counters concepts.
Over 280 new dishes, with every single dish analysed to make it healthier and more flavoursome in line with the new food philosophy.
Plant proteins are used where possible, food waste has been reduced and sustainable ingredients given preference. Grains like white rice have been substituted for higher fibre wholegrains such as bulgur wheat and brown rice.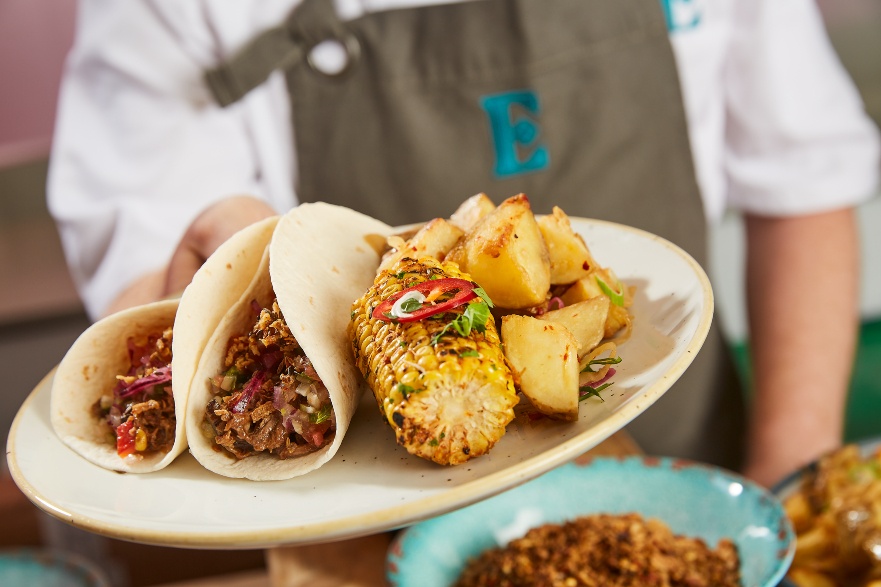 Self-service salad bars have been replaced by chef-led salad bars, with offers such as Moroccan chickpea and coronation cauliflower. An extensive grab-and-go range will cater to those eating "al-desko", while 'The Deli' will feature 180 pre-made options including bagels, focaccias and sourdough.
Morag Freathy, MD of Business and Industry UK at Compass said: "We are delighted to launch our new menu, which follows a long period of research and innovation from our team. Eurest provides thousands of meals every day and this has continued throughout the Covid-19 pandemic, where the vast majority of our sites have remained open and will continue to do so. 
"We have a responsibility to provide a menu that inspires workers to make healthy choices that will leave them feeling energised, whilst also offering employers a solution that is scalable and geared towards wellbeing and productivity. We are delighted that our new menu offers such an extensive a range of refreshed recipes and concepts across each and every dish."
Destination dining is also a feature of Eurest's new menu, with fixed counters for its most popular concepts such as Hola Polo, serving Peruvian-style chicken, and Bamboo, serving pan-Asian dishes, which evoke the feel of the high street.
New app Time2Eat will also enable employees to reserve their meal and seat or click and collect if preferred. This will allow employees to avoid crowds and the high street, as well as feel confident to eat in their workplace.
Ryan Holmes, Culinary Director of Business and Industry UK at Compass said: "Our new menu has been carefully designed to provide delicious, mindful and planet positive options that energise the workforce and exceed expectations when it comes to being flavourful. Options that boost wellbeing and put a magnifying glass on nutrition are core to our offering. We're fastidious with our suppliers, only working with those that share our vision of serving high quality British produce to the nation's workforce."
Part of the Compass Group global network, Eurest is the leading provider of foodservices in the UK, serving more than three million customers per day. It has been at the forefront of innovation in the industry for 50 years.
Seasonal menus and fresh British ingredients are key to Eurest's offering, taking a new approach to workplace catering that supports workers across the UK to live happier, more productive lives.
Eurest places an emphasis on wellbeing, engagement and productivity, priding itself on creating contemporary foodservice solutions, from the tearoom to the board room and everything in between.
A creative focus on responsibility, for instance by supporting local food supply chains, minimising food waste or giving back to communities through charities, sets Eurest apart.
Employers can expect Eurest to bring exceptional culinary creativity and flair, as well as style and hospitality to inhouse restaurants, cafés and executive dining rooms operating across business and industry.
*We have a UK-first sourcing policy which means the majority of what we serve is British, with the remainder largely comprising of products which can't be sourced from the UK. 80% of our supply chain is made up of small suppliers with £5 million committed to social enterprises.