Below content headlined the latest edition of The Business Profile
Jarno Kekäläinen is the CEO of Telia Inmics-Nebula, a subsidiary of telecommunications firm Telia Company AB. He's a veteran of the Telia organisation, and credits his prior experience as being essential to his current role.
A people centric leader who has overseen a turbulent time as three became one, Jarno provides a candid view of Telia Inmics-Nebula. From the awkward reality of three businesses struggling to harmonise, via covid, global supply chain crisis, and an ever-changing geo-political landscape, to a business where the culture is as important as any customer.
Hi Jarno. Please introduce Telia Inmics-Nebula.
We are a growing IT company of roughly 550 professionals soon located in 15 cities in Finland with main focus in fuelling our SME customers to grow and prosper. Even though Finland based, on some offerings we can cater for Enterprises and Governments on European scale. We offer modern customer centric integrated IT services from data centre to end user services including, cloud, security, managed services, licences, hardware and devices, and 24/7 support from the ground up. The only area we do not cover is the applications. So essentially, we offer pretty much everything to run the applications and to use the applications. We are not a software company, but we help our customers to modernise their software development pipelines though continuous integration and development (CI/CD) and we are happy to partner with software companies to bring forth a solution for our customer's needs. The main drive is that we can be local and to some extent we can be global.
Click Below: view the magazine version of this content
Jarno, you were appointed CEO of the then newly formed Telia Inmics-Nebula in 2019 having been with Telia since 2000. What were those early days like?
It was dreadful. Newly appointed inexperienced CEO inheriting neglected infrastructure, 5 different CEO's within 1 ½ years, 3 merged companies, but not integrated. All of this on top of employee churn, running rampant and unsatisfied customers due to quality issues, and slow and unresponsive service levels. Not to make things any easier, practically 3 different company cultures and small company processes and ways of working. Normally the processes evolve when the company grows, but all of a sudden, we were forced into making a leap directly to larger scale processes. We were able to use some processes from our parent company such as enterprise processes, but all operative processes had to be built up as IT business differs from Telecommunication business.
But I would not change the experience for the world. Personally, I made a huge professional leap in my know-how and leadership and as I told the chairman of the board "you can't buy this experience, you need to live it". It was hard times, needing to make decisions quick without all the necessary data just having to trust yourself. Now of course in hindsight, there are somethings I would have done differently, but all in all, those actions and decisions were just what the situation called for.
The initial employee churn forced the business to re-evaluate its processes quite quicky. Your mantra is 'more time to what matters'. Can you shed some light on this?
Yes, the employee churn was very high, at its worst 30% and subsequently also the churn was not only the professionals, but there were a lot on churn in the management team as well. As one can imagine, a knowledge leak of such magnitude poses a severe threat to continuity. So something had to be done. All eyes were on the new CEO to set the path forward. While not being that deep into the company, I realised that we need to have a common beacon that addresses most of the people in 3 different company cultures.
There is actually a story to "more time to what matters". I was able to take a small break with my family and I was sitting on a street of Ghost Town Bodie, California thinking that this used to be a booming gold mining town and a mere 35 years later it was practically reduced to a ghost town. I started thinking that they had a purpose and when the purpose was depleted, they left. I started thinking, what is Telia Inmics-Nebula's purpose and could not find one. Then I started thinking, what is the thing that we as employees and customers share and then it hit me. It is time. Time is a resource that us as people don't have endlessly. Time is something that you can only use once and a second later it is gone. Same goes for everyone, we don't what to use our time in meaningless tasks and same goes for our customers. Our customers want to focus their time to what matters most to them i.e. their own customers. So more time for ourselves, and more time to help our customers to free up their own time to what matters. 'more time to what matters'.
Samsung – Supporting Partner of Telia Inmics-Nebula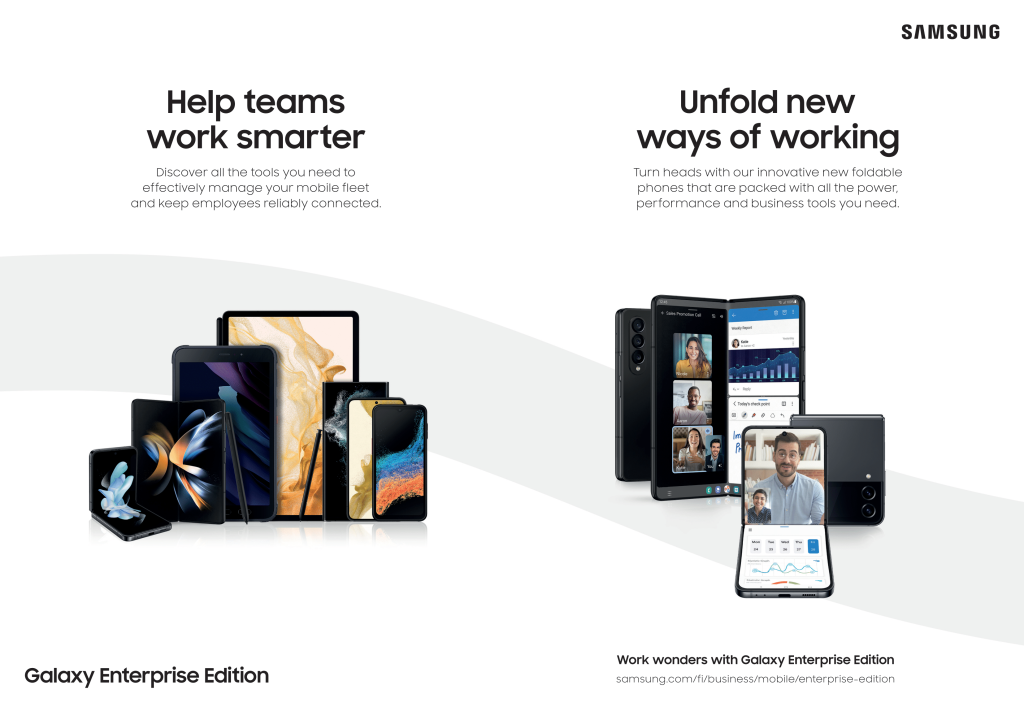 Having navigated a tricky initiation period you entered 2020 with optimism and an aligned team. However, March 2020 saw the covid pandemic grip the world and the start of a new normal. How did the pandemic effect your operations initially?
We had just made a major organisational change to bring the three distinct companies together and the aim was to start driving the changed operating model and way of working to the organisation. The pandemic could not have hit us in a worse time. New organisational roles and responsibilities starting to be implemented and then the shock that hit the world. The good thing was that in the new organization model we had reduced the hierarchy compared to the old one allowing much more agile lines of communication and information flow and the empowerment of our managers allowed us to react to the changed situation faster without too much red tape.
We also had a stroke of luck. Our offices had gone through a renovation and it was unbearable to work there while the renovation was going on. We had sent our employees to work from home and pre pandemic had to hone our working methods to remote working. That gave us capabilities to react quickly and start helping our customers with the experience we had.
Regardless of the previously mentioned, the utmost importance was to secure the health and safety of our employees. We sold off monitors, ergonomic office furniture etc. to our employees at significantly lowered cost so they can set up their home office. Had long consultation with our health care on giving advice not only to physical health, but also mental health as we all react to the changed situation differently. We also had in initial stages twice a week a crisis management meeting where we gathered information from different sources and made decisions accordingly. All of these were openly communicated to our employees.
What helped us a lot is that we are cloud based and the capabilities and expertise to operate anywhere, anytime and with any device. Horrible to say, but this was an acid test. Do our service offerings really stand up to what is promised? Happy to say that when we ate our own dog food, it passed the test, and we were, and are, able to provide benefits to our customers.
Telia Inmics-Nebula offers an exciting one stop style shop in respects of a businesses ICT requirements. As the pandemic continued to strangle many businesses you were able to reach out and educate clients on how they could navigate these unforeseen circumstances. What specifically were you offering clients at that point?
When the pandemic kicked in and society went to close down, the immediate concern was towards how the traditional bricks and mortar stores are going to survive when there are no patrons in physical premises. Concern was not only on the small businesses but was there a risk of a butterfly effect where it will also cause an avalanche of mid-sized companies being in trouble as their clientele's financial problems are affecting them also. Therefore the initial response was to offer our e-commerce platforms to smaller companies free of charge allowing them to rapidly take their businesses online and into the digital world.
The next step focused on offering free webinars (they are still being offered as of today). The content of these webinars was down to earth. Teaching people how to effectively use the tools such as MS Teams for instance, as we believed that by giving back to the society it would assist our clients to cope with this new unforeseen situation. I must quote one of our customers comment in the publishing business: "Thank you Inmics-Nebula for all your help. We were able to make a 2-year digital leap in just 2 weeks". It was very heart warming to hear this feedback as this is what it is all about. We help our customers to grow and prosper whatever the circumstances. But as said, we started off with basic Teams instructional webinars, but now we have weekly Tuesday trainings, whether it is making every day work easier, calendar optimization, digital meeting practices or the latest everyday cyber security. We have trained tens of thousands of interested professionals and participation is still at high levels even after almost 3 years.
HP – Supporting Partner of Telia Inmics-Nebula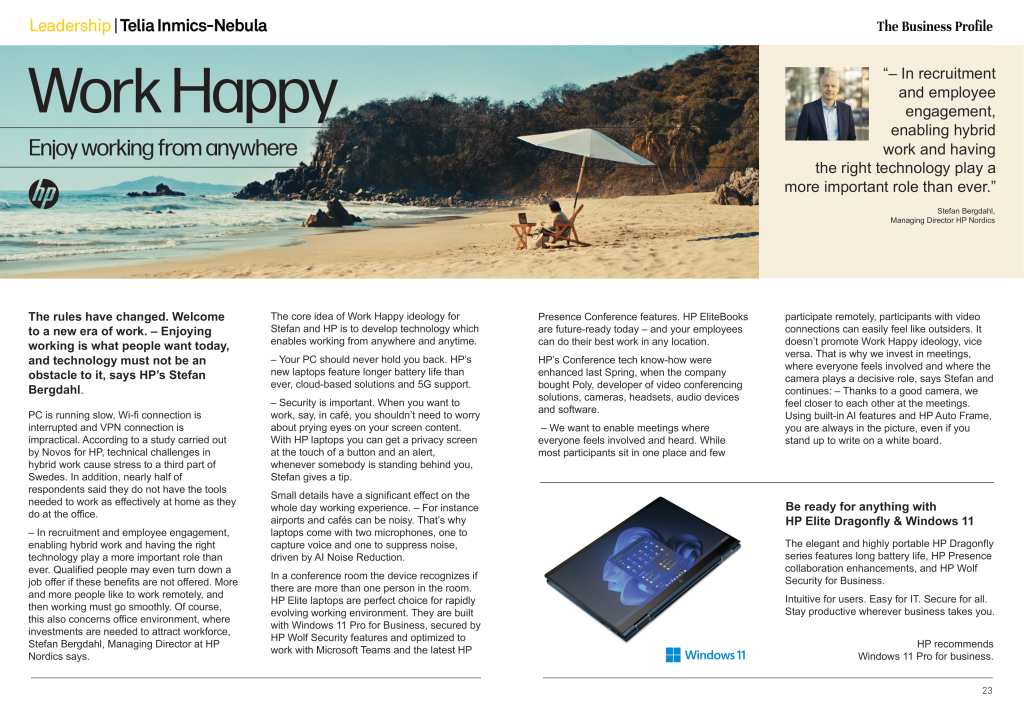 Have your actions and interactions with clients during the peak of the pandemic resulted in better relations long term?
This is a tricky question because the answer is yes and no. It really depends on the customers company culture and how they used to operate. We have customers that can see our interest in understanding their business, its problems, and opportunities. They trust us and the communication lines are open as we will openly tell them where we are good at and where potentially our partner would be better placed. It is true collaboration with complete visibility, and we can openly advise that there is a solution that can be replicated or applied to a different situation. Then there are more traditional customers where it is the old-fashioned buyer / supplier relationship that is based on the immediate need at hand and perhaps not taking the longer-term view of where things evolve. But this is natural. It takes time to change the paradigm to a trusted partner that stands by you even when times are hard.
Similarly, you don't have to get money on everything, but rather foster the partnership. A couple of examples. We are running local events in smaller cities outside of the capital area. The events are not just slideshows but rather interactive semi-workshops and the content of those learnings and such are being shared in a digital format for our existing and potential customers. Second example is that we are going to be featuring a start-up (or similar) in our digital channels each month at no cost for the featured company. If we can help other companies to get recognition and additional exposure and it is no cost to us, why wouldn't we. Maybe they will have a need for our services at some point.
The pandemic actually created more work for your business which in many instances is rare to hear. However, whilst your services and solutions have been in high demand the global supply chain challenges have meant that for many businesses it has been difficult to return to business volumes of normal. How have you been able to mitigate against the supply challenges? How important are the strategic relations you hold with many top tier partners in maintain continuity?
The pandemic really changed our view on the supply of things. In the past it was easy with distributors and manufacturers in just fostering the relationship. Of course sometimes there were issues, but I did not have to worry about the supply chain. Previously we have seen component shortages, but it was manageable, and it was fairly predictable. But then things changed dramatically.
When Covid hit, all of a sudden air freight was limited prolonging delivery times. Major Chinese manufacturing plants got practically shut down because of quarantine. Then we had the ship stuck in the Suez Canal. At that point I was thinking what's next? A meteorite hitting one of our data centers? Well not a meteorite, but the war in Ukraine. Part of my days even though there is nothing I can do about it, goes into following the world raw material situation, or component situation, manufacturing situation, and trying to predict the impact on our customer promise of timely and reliable delivery of products and services. But this is where our partners kick-in. We have continuous open communication of the situation and end-to-end transparency as far as we can see it. They say that money does not stink, but it does if it is laying in a warehouse. I hate to say this, but we have been buffering our stock as well, but fortunately it has been kept on the moderate levels.
We have categorised our partners; we have joint marketing teams of where to promise and where not to promise. Partnership models are in place as well as incentive models. This has been crucial not only because of Covid or the War, but also as we are expanding parts of our operations to be European wide, how can we operate in traditional non-EU countries, but also in UK due to Brexit for example.
Finland as a country is renowned for its attitude towards sustainability. Being a corporate citizen is important to all at Telia Inmics-Nebula. What programs are you presently running to meet your goals in this regard?
Being a good corporate citizen for Telia Inmics-Nebula is not just doing the right thing, but doing it smartly, we can also improve our profitability and capabilities to deliver long term growth for the company. Allow me to illustrate this by dividing our actions by the ESG.
Environment, we are ISO 14001 certified, and we follow up our carbon footprint that our operations leave to our precious planet. We are using electricity that is being produced with carbon neutrality. On our device business we follow the 3R principle, Reuse, Refurbish, Recycle. As an example of this, we have just launched a model where we resell used devices. We are selling Devices as a Service and when they are returned after the service period, they are being re-sold. Not only does that save the nature, but also offers an alternative avenue for profits. This is something we also require from our partners as we monitor how and where things are being produced also tying into societal sustainability of human rights.
Society. This is very important for us and also personally to me. We do not discriminate anyone based on their age, gender, religion, national origin, quite the contrary. We have initiated a diversity and inclusion program that we are running to attract talent from all aspects to strengthen our professional base. Come as you are. Again, ethical and morale aspects aside, it would be stupid for us as a company to limit any brilliant people from joining our forces to make our customers happy and company become more profitable. Not only do we follow-up the progress with our OKR's, but also being all Finnish speaking, last week I decided that our monthly all staff meeting will be held in English.
2nd element on this matter is the terrible Ukrainian war. At current, we have about 40 000 Ukrainians with good skill set who fled from their home country to Finland and I have felt obligated to chip in in assisting them. So now we are part of a program, where we provide Ukrainian professionals with training to be included into the Finnish companies and bring their expertise to add to ours. It is a small program of some tens of professionals, but it is a start.
Governance, From the governance perspective we have stringent practises for anti-corruption, but also cyber-security in protecting our customers from harms way. Increasingly privacy and security in our everchanging world is becoming something that needs to be protected. The same as we secure our customers assets, we also provide them with tools and expertise to protect themselves.
Telia Inmics Nebula is focused on quality – 'more time to what matters'. Operating in a dynamic sector means that standing still or placing people and services into a box can sometimes prove unwise. With a dearth of jobs across ICT you have a big focus on re-skilling and upskilling staff members for the jobs of tomorrow. This is a great initiative so please tell us more.
Yes, we have been focusing our efforts on our employees that each and every one of us can have a meaningful job and a possibility for a path ahead whatever our heart desires. Reskilling – upskilling was something that came from a direct need that we decided to start solving in an alternative way. Not just go hire new people when we have fantastic people already amongst us. Work and required competencies are changing rapidly with the digitalisation. Competencies of today might be redundant by the end of the decade, but people who are committed and willing are precious.
Therefore we decided to launch a program starting with cloud competency. Staff with previous knowledge are in a program where their professionalism is being upgraded to more demanding elements and those unfamiliar to cloud are being reskilled to become cloud experts. This way, we run proactive Strategic Workforce Planning (SWP) where we continually take care of our employees and prepare them for upcoming changes to competency needs, whatever they may be.